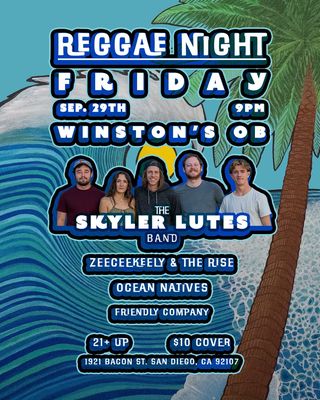 His music is rooted in reggae rock and island sounds, featuring songs that mix rhythms and melody, while also evoking ocean breezes and beach side celebrations. Focusing on guitar as the foundation of his music, as heard on his last album, Never Leaving, Lutes has turned out thirteen tracks of hook filled, radio friendly gems, custom built for playing loud on warm summer nights, or anytime good vibes are needed. However, there is much more to his sound. He is a multi-faceted performer whose music will impress, whether you catch a solo performance or a full band set.
A native of San Diego, Lutes grew up in the surf scene of Southern California, honing his craft on the live circuit, touring throughout the U.S. as well as Europe, Canada and Argentina. He's at home at gigs ranging from busy beach bars to outdoor festivals, where he's shared the stage with the likes of Switchfoot, Makua Rothman, Pepper, Aaron Carter, Through The Roots, Tunnel Vision, The Ataris, Hawthorne Heights, Alien Ant Farm, Mickey Avalon, and dozens of regional favorites.
Lutes is a multi-instrumentalist, who plays drums, bass, keys and guitar, as well as being heavily involved in production work, "but I really enjoy singing the most," he said, "as it has the most emotion involved," In addition to his solo career, he's also been involved in several notable bands over the years, including Hawaiian group Makua Rothman Band and Pacific Beach indie rockers The Frets.
Friendly Company is a rock n roll band from Brooklyn New York made of four songwriters - Doak Jesse Mert and Zoë - who love to play each other's songs and play them LOUD! Their shows are a party, especially on stage. All of them play most of the instruments and swap between songs just to prove it. Since summer 2022 they've been at it and in that time have played about 30 shows around New York City and as far as Texas. Friendly Company is traveling to the west coast for the first time together this September and will be touring to Texas for an annual music festival and celebration. Life's a celebration! We're Friendly Company and we're gonna live forever.