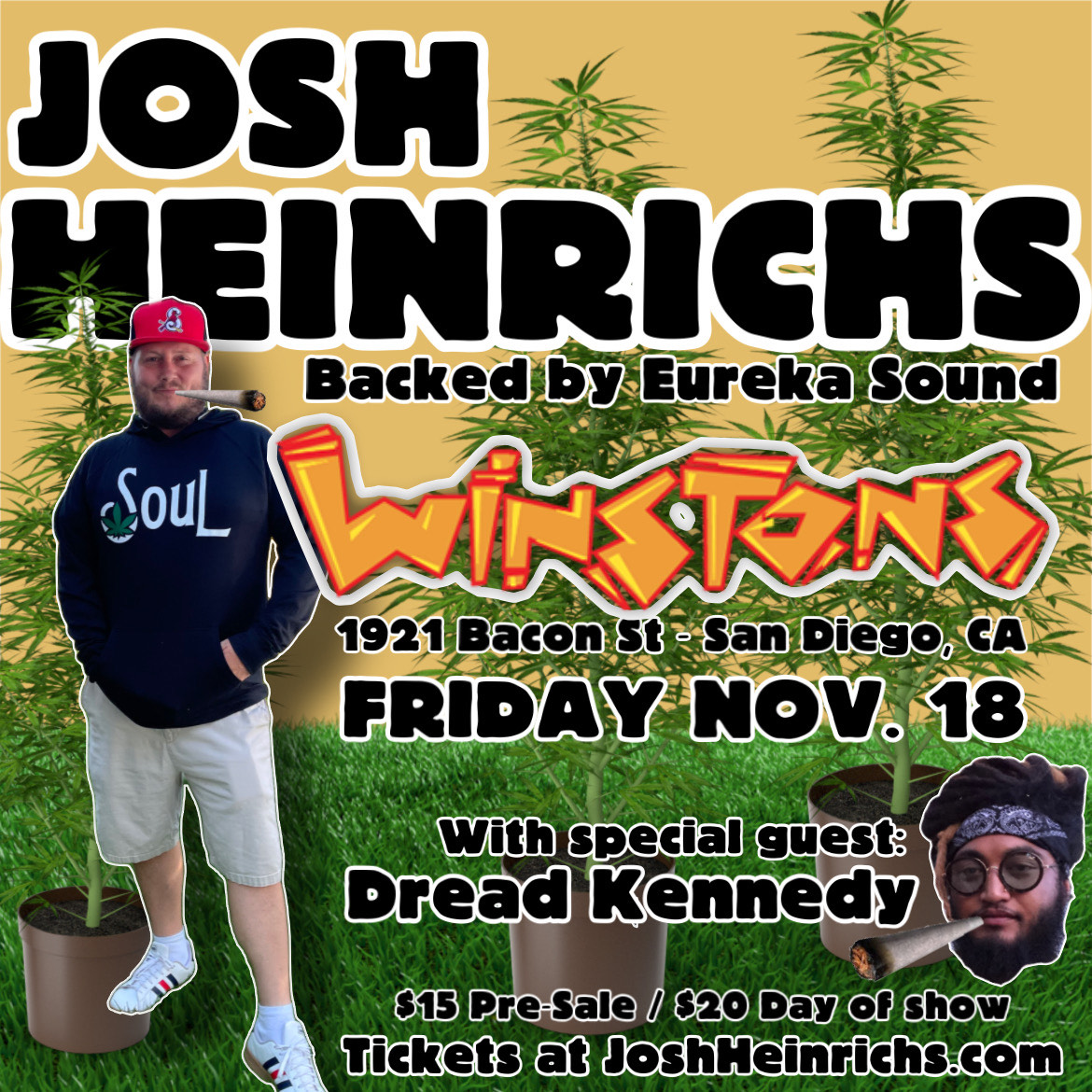 Cover:
$20 Day of Show @ The Door
Josh Heinrichs is a stalwart in the American and worldwide reggae community. Beginning his own reggae band, Jah Roots, in Springfield, Missouri in 2001 as well as forming his own record label, GanJah Records with his wife, Kaytee. Josh wrote and recorded 5 albums with his former band, Jah Roots, and gained a loyal independent following via Myspace and a tireless touring schedule from 2005-2009. Josh left Jah Roots in 2009 to pursue a solo career and work on blossoming his label and helping other local reggae artists get their music out. Since starting his solo career, he has released, Five, Top 10 debuting albums of his own as well as 3 other artists(SkillinJah, 77 Jefferson & Lance Sitton) albums all to Top 10 releases on his label, GanJah Records. On March 26th, 2013 Josh's EP "Rooftop Session" was the 1st of any of his albums to officially debut at #1 on the iTunes Reggae Charts and at #2 on Billboards Top Selling Reggae albums chart. As a solo artist, Josh has toured the entire USA coast to coast multiple times and has performed 5 Hawaiian tours. In 2015, Josh performed sold out tour dates in Florida, Arizona, California and Co-Headlined the 1st Annual Trenchfest Reggae Fest on the island of Guam alongside Iration, Fortunate Youth and The Green. Over the years Josh has shared the stage along the way with headline acts like Bob Marley's children(Ziggy,Stephen, Damian,etc...), SOJA, Slightly Stoopid and many more. Josh has made numerous appearances at music festivals all over the USA, Guam and Hawaii from 3 appearances at The largest Reggae festival in USA, California Roots to Wakarusa, Summercamp, Gathering of the Vibes, Reggae In The Hills, Austin,TX Reggae Fest and many more as well as hosting his own Springfield,MO Reggae Fests annually every year which has welcomed acts like SOJA, Junior Marvin of Bob Marley and The Wailers, Marlon Asher, Natty Vibes, Fortunate Youth and many more to Springfield, Missouri to come perform with Josh in his hometown where he still resides.
 With all these accolades, years of touring and constantly promoting positive Reggae music through out the world. Josh's form of Reggae music and message remain a constant driving force behind the current reggae scene, worldwide.