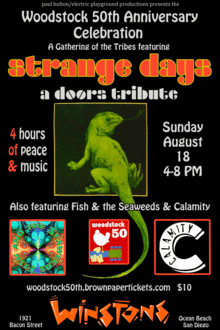 o celebrate this historic time in history we are bringing you the music of the Woodstock generation to Winston's in Ocean Beach. We are featuring the music of local favorites Fish & the Seaweeds, Calamity (featuring Cathryn Beeks, Nisha Catron & Marcia Claire) and from Los Angeles, international touring band Strange Days. All bands will be performing songs by Jimi Hendrix, Santana, The Grateful Dead, CSNY, Janis Joplin, The Doors, The Who, Joan Baez, Joni Mitchell and many more! More acts to be announced!!!
Strange Days is a Doors tribute band that uses vintage instruments with the latest technology. They also offer both an authentic on-stage look and an unmistakable studio album sound. The result is a show that has thrilled audiences around the world. Watch the video on this page and see for yourself.
Strange Days has also had the honor of having Doors guitarist Robby Krieger join them onstage numerous times. They also have the endorsement of Doors drummer John Densmore. Rarely, if ever, do tribute artists get to play with the actual legends to which they pay homage.
Come see why audiences everywhere are saying, The Lizard King Lives! 
Also performing are local San Diego legends Fish & the Seaweeds. A truly gifted guitarist, Mark Fisher & his exceptionally talented band have been thrilling audiences for many years. Their set will include many of the songs from  Woodstock. 
Mark and his band Fish and the Seaweeds have a wealth of experience performing throughout California and the western US.  The superb musicianship of this powerful trio allows them to cover a wide variety of styles while spontaneously improvising set lists in length and content creating an instantly accessible high-energy live musical flow taking listeners on a sonic, in-the-moment-honest journey through time. The infectious appeal of this unscripted willingness to take chances and be truly spontaneous, creates an exciting experience for the audience and players alike. 
"A psychedelic, spontaneously improvised, conversational journey through time using melodies from a vast song reservoir as diving boards into an ocean of yet unimagined jams". 
Calamity is an all female acoustic ensemble featuring local musician's Cathryn Beeks (listenlocalradio.com), Nisha Catron & Marcia Claire. Calamity has performed all all over San Diego and is looking forward to treating everyone to some Joan Baez, Janis Joplin, The Band, CSNY and many other songs from Woodstock. Their 3 part harmonies will blow you away!