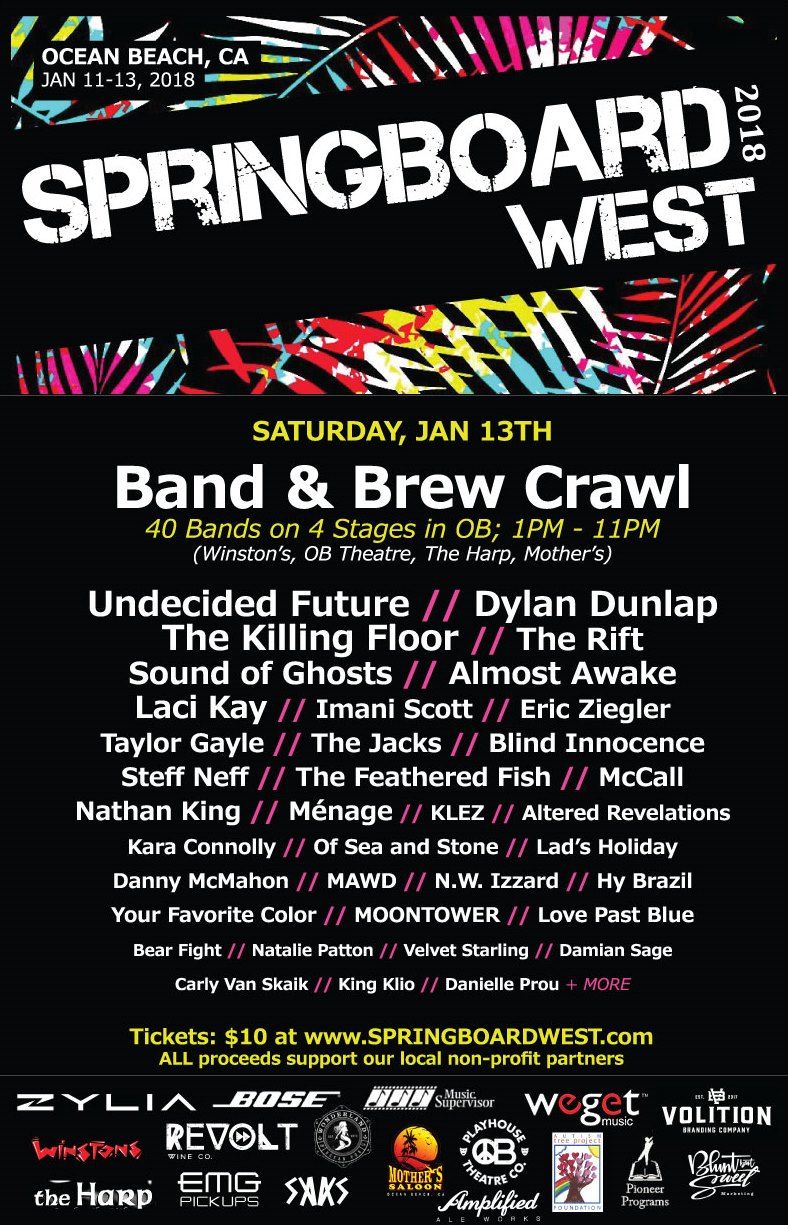 Door Time:
12:30pm (shows: 12:45pm-9:30pm)
Join us for a one of a kind music experience! 
Springboard West is three days that change lives and careers. We've spent the past five years building the most amazing conference and festival for Artists, The Music Industry & Fans, and now we're bringing it to San Diego.
We are putting together the best emerging artists from around the country with top music industry executives for 2 days of Band Bootcamp including unplugged performances and closing out the third day with all 40 bands on 4 different stages in Ocean Beach for a Band & Brew Crawl.
All proceeds from ticket sales go to our local nonprofit partners; Sustainable Artists, The Autism Tree Project Foundation and The Pioneer Foundation. 
SAT, JAN 13th: BAND & BREW CRAWL, 1PM - 11PM (40 BANDS ON 4 STAGES)
Start at 12:45pm at the OB Theatre to receive your set schedule and VIP lanyard. Your lanyard holds your Band & Brew card where you will mark off each band that you see perform and craft beer you enjoy, as you make your way around all 4 stages in OB; Winston's, Mother's, The Harp, OB Theatre. Then join us back at the OB Theatre to close out the night and redeem your card for awesome prizes.
12:45pm
Lad's Holiday
1:45pm
Falling Doves
2:45pm
The Rift
3:45pm
Bear Fight
4:45pm
King Klio
5:45
The Jacks
6:45pm
Almost Awake
7:45pm
Altered Revelations
8:45pm
The Killing Floor
21+