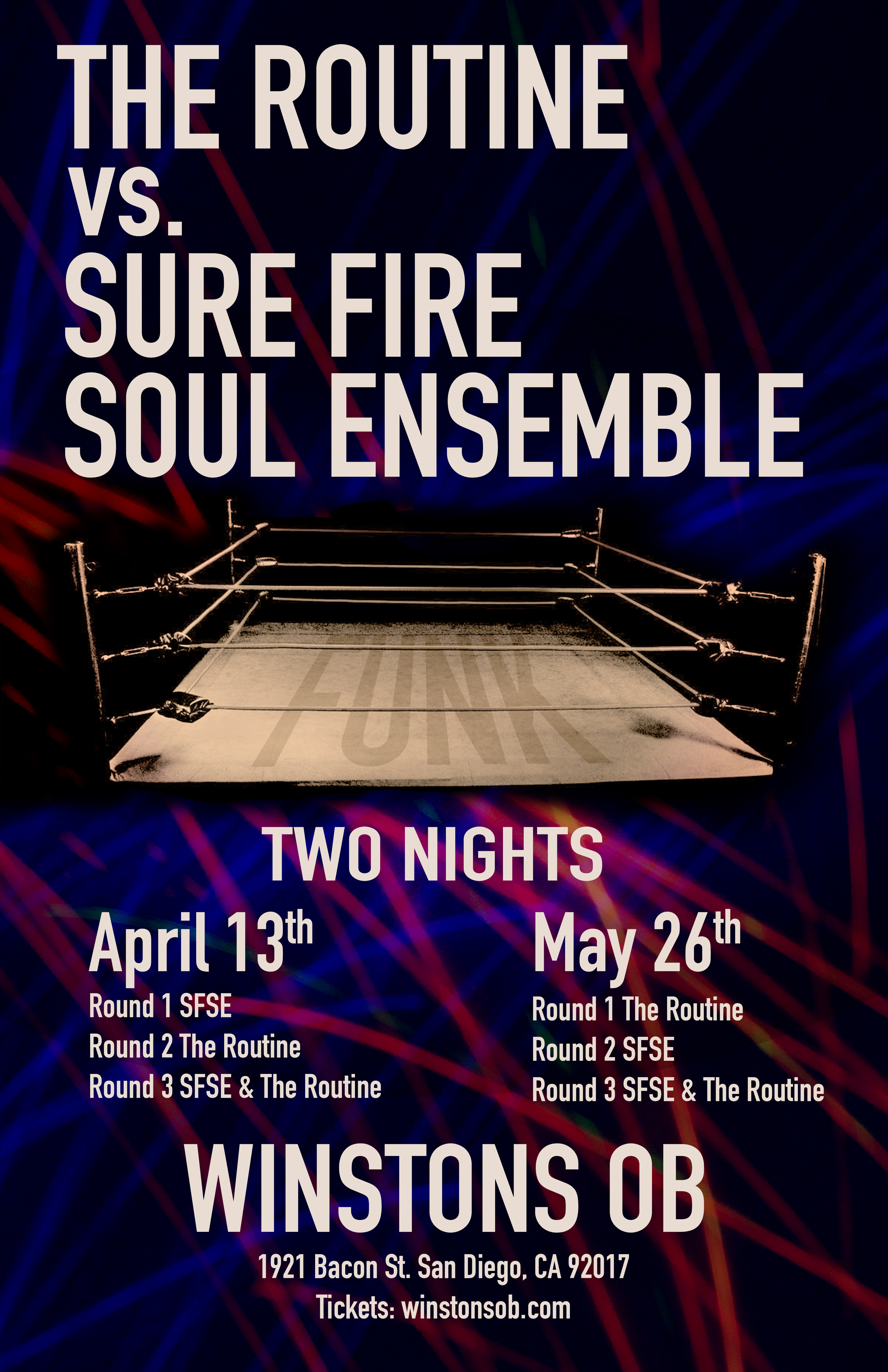 Cover:
$10 presale / $14 @ the door
San Diego funk and soul heavyweights Surefire Soul Ensemble and The Routine square off at Winstons Beach Club for two nights only: Friday April 13th and Saturday May 26th. Each evening consists of three rounds including original sets, funky crossover jams, and a late-night super jam featuring members of both bands. Let's get ready to rumble, tumble, and stumble on the dance floor!
April 13th, The Battle Begins:
Round 1 Surefire Soul Ensemble
Round 2 The Routine
Round 3 SUPER SLAM JAM: The Routine with Surefire Soul Ensemble
The Routine is a five-piece rock collective that defies categorization in today's genre-driven media cloud. A sonic melting pot of electric blues, soul and world styling, they are not simply a band—and they are anything but "routine". Together, this kindred fraternity of musicianship shatters the mold of conventional, over-produced and underwhelming music with their own brand of Rock 'N' Soul. Never complacent with the status quo, they are an ever-evolving conglomerate poised to please music lovers from all walks of life.
"The deep funk revival was ignited way back in the 90s by The Poets of Rhythm in Germany, the Dap-Kings family in New York.. or, before anyone else, The Greyboy Allstars in San Diego, where a new instrumental soul band is following in the footsteps of its elders: The Sure Fire Soul Ensemble. Their blend of influences from those 3 legendary bands is surely addictive, and their first 45 is announcing some great news for the future!" - Paris Djs
"A few months back, San Diego collective The Sure Fire Soul Ensemble released a heavy instrumental 7" titled "Layin Low" b/w "IB Struttin" which packs a punch. Both the A & B sides have everything that we're looking for in this style of music, heavy drums, funky horns, guitars and beefy baselines and a nice Afro flair to round things out." - Hot Peas & But