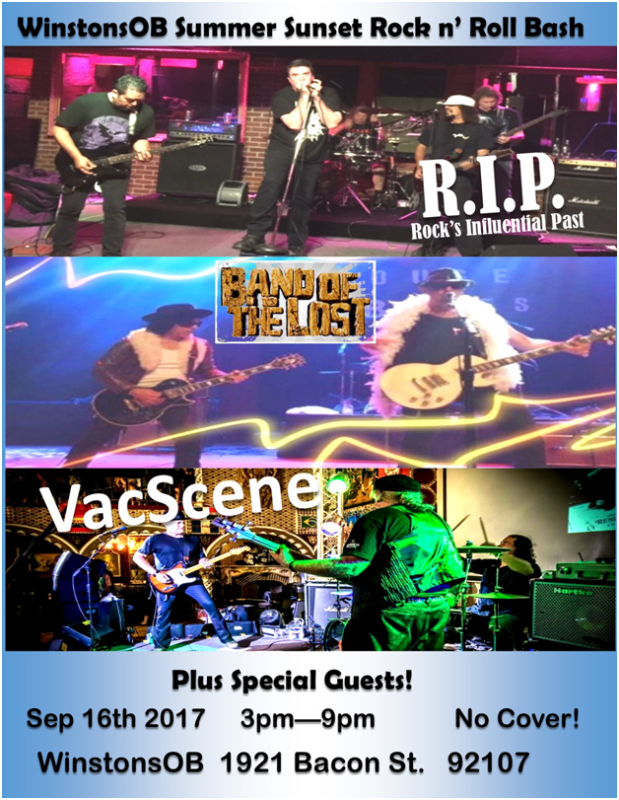 R.I.P. Rock's Influential Past  
Paying Homage to Rock's Most Influential Bands, from the 70's to Modern Day~ With focus on bands that have members who have passed away~ R.I.P
Genre; Hard Rock ~ Heavy Metal
Members include a Line up from various other kick ass bands around So Cal:
Haze Robinson-VOCALS from SnapWire and Electromagnetic
Alann Escamilla-GUITAR formerly of Guardian 
Steve Schneider-BASS From SnapWire and BeerFeat
Paul Mcgee-DRUMS from The Roni Lee Group
Brett Baugh-GUITAR from PermaCrush
Set List includes songs by:
Alice In Chains, STP, Megadeth, Judas Priest, Def Leppard, FastWay, Iron Maiden, Ozzy, DIO,
Deep Purple, Black Sabbath, Guns and Roses and Scorpions.
Band Of The Lost  
Original Rock ...performed by veteran San Diego players
Band Members  
Trent Slatton - Vocalist, Guitar and Vocalist in San Diego's own Judas Priest Tribute Band, HELLBENT 
John Hernandez - Guitar / Vocals 
Jaimie Anderson - Bass / Vocals and Bassist for 80's New Wave / Punk Band, Bam Bam 
Matt Woods - Drums and band member of Wicked Rooster, a salute to the music of The - Stone Temple Pilots / Alice in Chains.  
*A Cosmic Rock Sound.
Genre- Original Rock with Influences by Black Rebel Motorcycle Club, Jesus and Mary Chain, The Dandy Warhols.
.
VacScene 
Band members, Johnny Mudd~Drums\Tim Orrahood~Lead Guitar-Vocals\Eric Koch~Bass Guitar
Genre, Rock and Influences
Chris Cornell, Zeppelin, UFO, Nazareth, Motown, Classical, Soul, Passion and Flamenco.
Associated tribute acts; Drunk Fux with Axel Izzy /
Jizzy Pearl Love Hate and opened up for Eddie Money, The Tubes, Missing Persons. As well as Lou Gramm from Foreigner and Alcatraz.