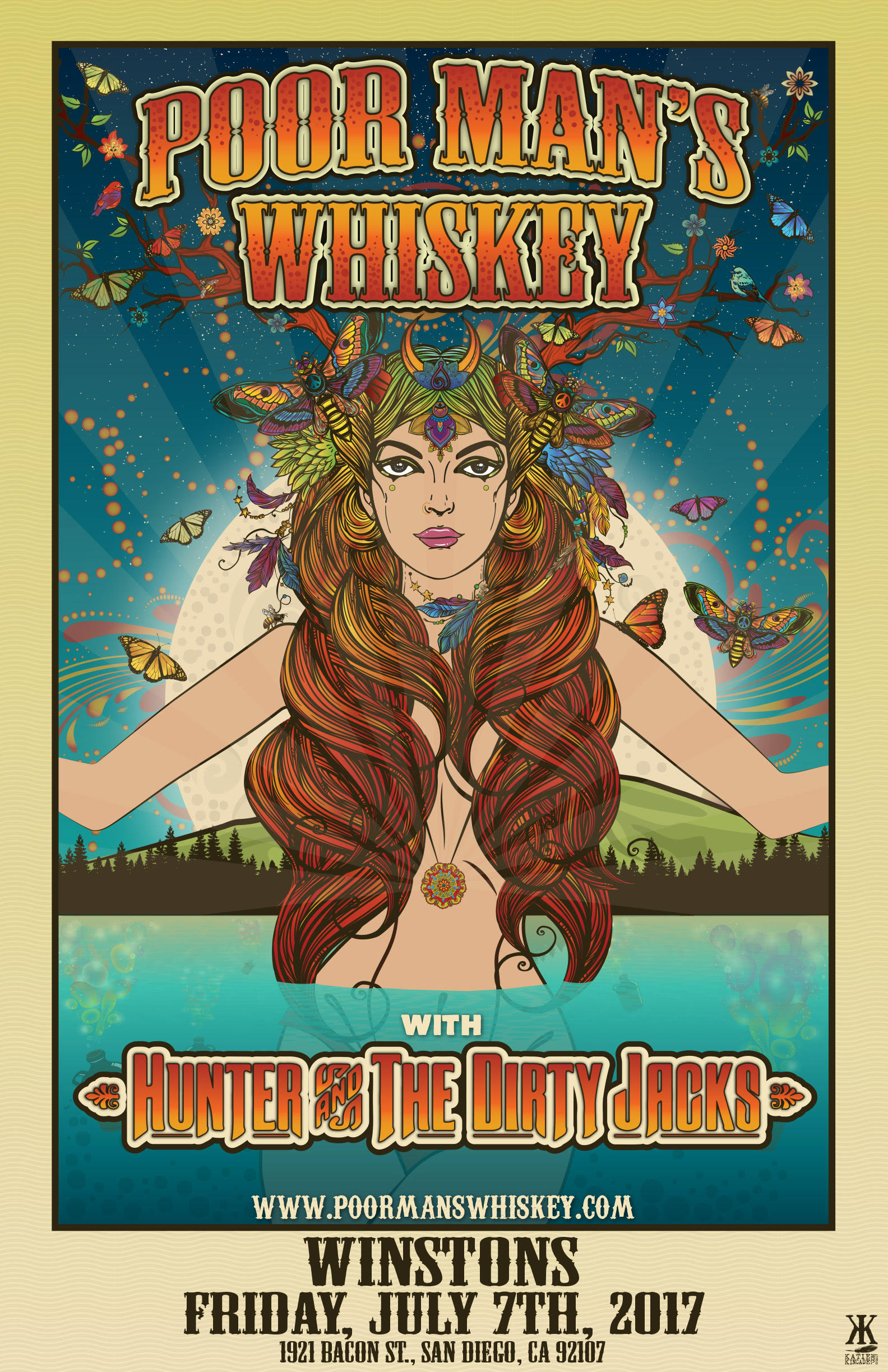 Cover:
$10 ADV / $12 DAY OF SHOW
Northern California's outlaw music bards bring a reputation for high-energy live shows and an incomparable fusion of bluegrass/old time, southern rock, and old school jam to stages and festivals worldwide. Poor Man's Whiskey has been growing exponentially in the past 5 years selling out venues across the country such as the legendary Fillmore in SF.This "High-Octane Hootenanny" will certainly delight those interested in a foot-stompin good time. Poor Man's Whiskey has evolved into a ragged, spontaneous beast pulling from equally deep wells of story-telling originals, expertly crafted covers and zany on-stage shenanigans. PMW has released 6 studio albums and have a stunning repertoire to choose songs from creating a new show every night. In addition to their upbeat original sets Poor Man's Whiskey have developed special late night "tribute sets" with their original bluegrass/americana twists which include "Dark Side of the Moonshine" (bluegrass interpretation of the classic Pink Floyd album) , "Graceland" (tribute to the classic Paul Simon album), "Old and In the Way", "Tribute to Allman Brothers Band", and "Tribute to Kate Wolf". Crowds of all ages will sing, dance and have a good time!
Notable festivals and shows: Hardly Strictly Bluegrass Festival, Byron Bay Blues and Roots Music Festival (Australia), High Sierra Music Festival, Wakarusa Music Festival, Yonder Mountain Harvest Festival, Kate Wolf Music Festival, Phases of the Moon, Hillside Music Festival (Canada), Evolve Festival, (Canada) Harmony Festival, Strawberry Music Festival, Dead on the Creek, 4 Peaks Music Festival, Joshua Tree Music Festival, The Summer Meltdown, Las Tortugas, Lohi Music Festival, Telluride Bluegrass Festival (band competition finalists), Salmonstock Music Festival, String Cheese's Horning's Hideout, Multiple sell out shows at the Fillmore San Francisco, and many many more
with Hunter and the Dirty Jacks who are California-Crafted Rock & Roll – like smoky whiskey with phosphorescent ice cubes in a blues-tinted glass. Led by frontman Hunter Ackerman and flanked by guitar players Carmelo Bonaventura and Jon Siembieda, with Aaron Barnes grooving the bottom end on bass and Brian Lara keeping the rootsy tribal beats, this band has been packing roadhouses and clubs in every town from San Diego to Seattle to Denver. Recently signed to the world's leading independent record label, Spectra Music Group, the album "Single Barrel" is playing on 400+ radio stations, holds 14 television licensing deals including Discovery Networks, MTV, and E! Network, while live the band has been dazzling musical reviewers both nationally and internationally with its "uncompromising energy and theatrical dominance" (Broke Ass Stuart) "befitting of a band that follows the legacy of the Rolling Stones and the Black Crowes." (jambandsonline).