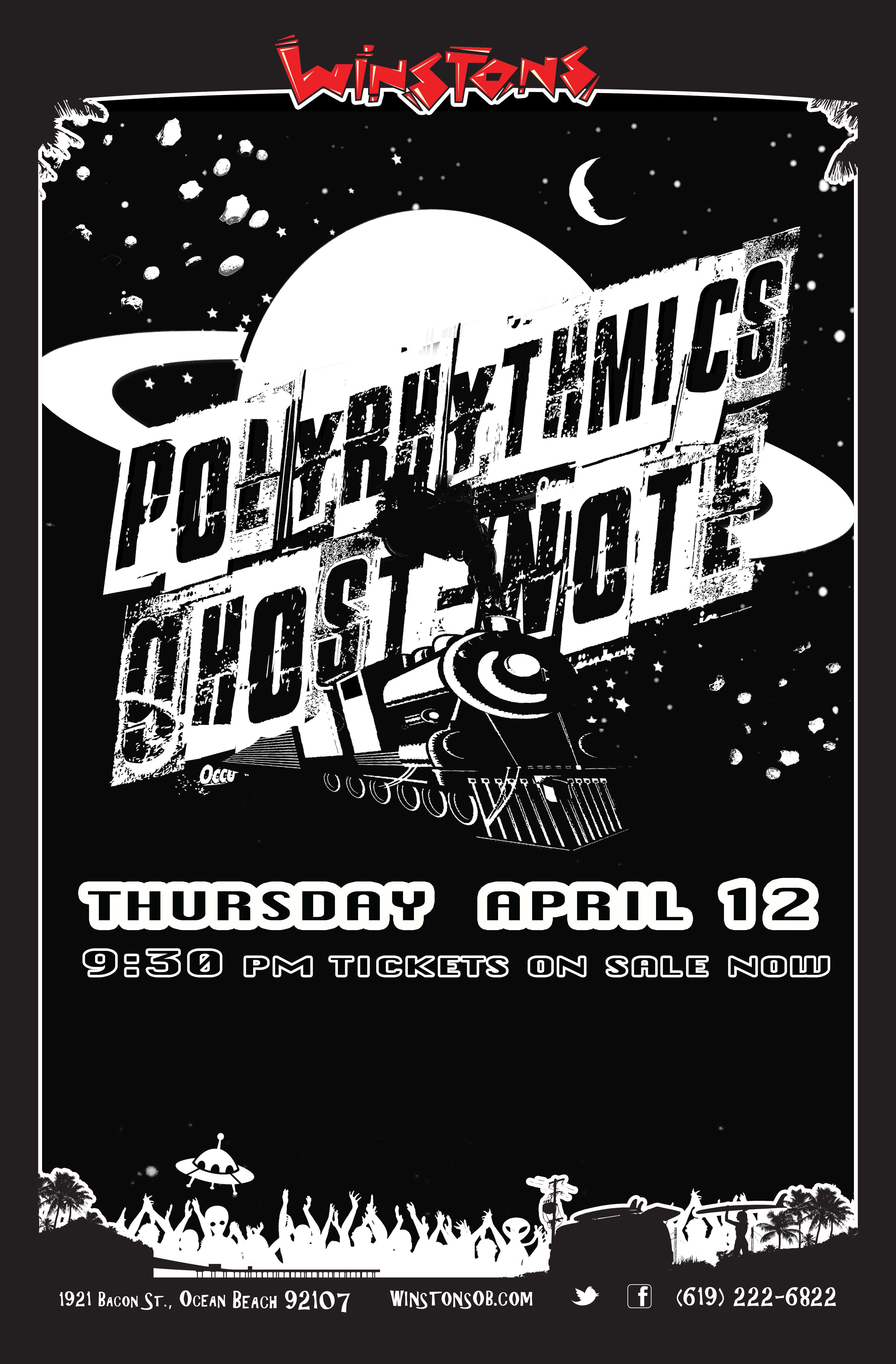 Cover:
$ 15 Presale $18 Day of Show
Rich with bold brass and hypnotic percussion, Polyrhythmics' latest album, Caldera, showcases the instrumental eight-piece's impossibly tight grooves and virtuosic musicianship as they tear through a singular blend of funk, soul, psychedelic rock, R&B, progressive jazz, and Afrobeat. Calling to mind everything from Antibalas and the Dap-Kings to The Meters and Fela Kuti, it's without a doubt their strongest work to date, merging the infectious power of their live show with a sleek and nuanced studio sophistication. 
Named for the smoldering crater left after a volcanic eruption, Caldera was written during a band retreat to rural Oregon, where Polyrhythmics embraced truly collaborative songwriting for the first time during a marathon session in the shadow of Mt. Hood (itself an active volcano). The resulting album is a blistering declaration from a band that's progressed beyond the sum of its influences to come fully into its own. From the downtempo, Afrobeat trance of "Stargazer" to the triumphantly anthemic, high-octane pump-up funk of "Marshmallow Man," Caldera is instrumental music at its best: emotional, evocative, mesmerizing. On "Cactus Blossoms," Polyrhythmics craft an eerie, retro gem straight out of a 70's film score, while the trippy effects and wah-wah guitar of "Goldie's Road" suggest a psychedelic journey (or perhaps a bad trip), and the shuffling "Vodka For My Goat" draws on Stax soul while hinting at BB King's merger of the blues and jazz. It's an eclectic collection, tied together by the melding of eight distinct musical voices coming together as a cohesive whole.
The record follows the Seattle band's stellar third album, Octagon, which earned them tour dates around the country along with plenty of critical acclaim. The Stranger dubbed Polyrhythmics a group to watch, hailing their "sophisticated slinkiness and expressive brassiness," while WNCW praised their "modern afro-psycho-beat blend," and the Seattle Times dubbed them "funk maestros." The band was invited to perform live on influential Seattle NPR station KEXP, shared bills with everyone from Snarky Puppy to Booker T, and played massive festival stages including Bumbershoot, High Sierra, and Vancouver International Jazz Fest.
Polyrhythmics are:
Ben Bloom: Guitars, Grant Schroff: Drums, Nathan Spicer: Keys. Lalo Bello: Percussion, Karl Olson: Percussion, Jason Gray: Bass, Scott Morning: Trumpet, Elijah Clark: Trombone, Art Brown: Sax and Flute
Multi-Grammy Award winning artists Robert Sput Searight and Nate Werth take percussion out of the shadows and into the spotlight with their new project, Ghost-Note. World renown for their ongoing catalog with international sensation Snarky Puppy, this dynamic duo expands their rhythmical voice into a celebration of music in all its forms. This is music that takes listeners on a mind-blowing journey, inspired by the influences of James Brown, J Dilla, and the Beastie Boys, all the way to folkloric West African, Afro-Cuban, and Brazilian samba grooves.
Ghost-Note's impressive rotating roster of heavy hitters combine their decades of experience to create a night of unforgettable musical madness. Band members include Sylvester Onyejiaka (Prince, Quantic) on flute, tenor, and baritone sax, Jonathan Mones (Funky Knuckles, RC and the Gritz) on flute, alto, and tenor saxophone, A.J. Brown (Fred Hammond) on bass, internet star Dywane "MonoNeon" Thomas (Prince) on bass and guitar, Justin Stanton (Snarky Puppy) on keyboards, Daniel Jones (Jay-Z, Janet Jackson, Justin Timberlake) on keyboards, Nick Werth (Galaxe, Yak Attack) on xylosynth, Mike Jelani Brooks (Kirk Franklin, RC & the Gritz) on tenor saxophone, and Alvin Ford Jr. (Pretty Lights, Dumpstaphunk) on drums.
Ghost-Note's first record, Fortified, which debuted at #1 on the ITunes Jazz charts in 2015, not only showcases Searight and Werth's unique duo approach to rhythm, but it also highlights a phenomenal community of Dallas musicians. Fortified includes features by Shaun Martin, N'Dambi, Mark Lettieri, Caleb McCampbell, Jason "JT" Thomas, RSVP, and Nick Werth, and guest appearances by Cleon Edwards, Taron Lockett, Marcelo Woloski, Wes Stephenson, Bob Lanzetti, A.J. Brown, and Sylvester Onyejiaka. In addition to touring across the United States, the band is also working on their second album to be released in fall 2017.
Ghost-Note is an instrumental explosion like you've never heard before — prepare yourselves for a neck breaking and booty shaking night that will keep you on your feet all night long.