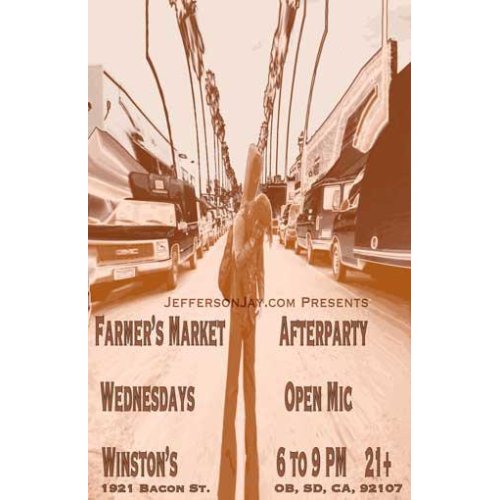 Wednesday, May 6, 2020 - 6:00pm
There are many wonderful entertainers who call Ocean Beach home, but only one has given much of his time in the neighborhood to help enrich the community as well as help hundreds of other musicians to get their music onto San Diego stages ranging from Winston's to the Athenaeum: Jefferson Jay.
He's a hugely talented guitarist and songwriter, with a larger-than-life personality, always on the go, always looking for the next opportunity. He can be seen and heard each Wednesday from 6 to 9 p.m. as the host of Winston's open mic night.
Jay, originally from New Jersey, considers Ocean Beach the ideal location from which to launch his many projects.
"People are super-appreciative here; people couldn't be more warm and embracing," he said. "Musically, I think people are accepting and up for hearing what people have to offer in general. Being from the East Coast, I'm kind of used to people giving their opinion, whether you like it or not. It's not like that in San Diego. People want to do their own thing and therefore respect others' right to do their thing, and that makes for a pretty welcoming environment."
This is an ideal situation for any of the performers on his open mic night.
"I'm actually considering renaming the open mic night 'Winston's Wednesday Welcome.' It's a bit of a mouthful, but that's the idea we're going for. New name, new poster."
Jay notes that while most of his gigs and events involve original music, Bob Marley is the OB headliner when it comes to covers. "He's the Beatles of the area," he said. "Whoever is at all up to dancing will reveal themselves through a Bob Marley tune."
Upcoming projects for Jay include the pending release of his seventh album, set to be a selection of works culled from his Operation 365 Project, which saw him post three videos on YouTube every day for a year. "It was 1,100 videos," he said.
Each day, Jay posted a cover song, an original and a video he shot of a local performer at a variety of venues such as defunct restaurant Portugalia. "The new album will be the 12 best songs I wrote for that," -San Diego Community News Group