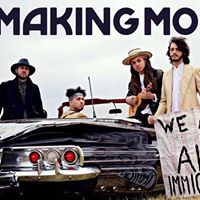 Immigrants Are Beautiful Tour
"(I Am Another You is) lyrically and sonically one of the best albums of the year" - NPR
Making Movies is an American rock and roll band that entrances audiences with their interweaving of Afro-Latino rhythms and psychedelic rock'n'roll riffs. Armed with their ambitious and politically charged new album, I Am Another You, the band punches out one high-energy song after another with theatrics and improvisation littered throughout. Making Movies' culture gives way to beautiful dynamic shifts: at times front-man Enrique Chi trades his electric guitar for a folkloric Panamanian mejorana, and the Chaurand brothers hop off drums and percussion to instead supply the rhythmic pulse with dueling zapateados, a traditional dance from Veracruz, Mexico.
Making Movies is kicking off its "Immigrants Are Beautiful Tour", an anti-shaming, anti-racism, anti-trump, pro-have-a-crazy-dance-party tour. The band's social statement is straightforward enough that they can express it in four words: "We Are All Immigrants." In supporting that cause, a portion of all proceeds from the album and tour go to the National Immigration Law Center.  
Enrique Chi, singer-songwriter in Making Movies describes, "since making the album, the tides have shifted and the underbelly of systematic racism has reared its ugly head. It is no longer time to be silent is time for us to raise our voices."
The quartet has toured with Arcade Fire, Thievery Corporation, Cold War Kids, Los Lobos, Ozomatli, Tennis, Sergio Mendoza of Calexico, Rodrigo y Gabriela, and Hurray for the Riff Raff.
"A pointed social statement from a group who's sound is its own form of protest" – KUTX, Austin
"Making Movies is breaking down barriers for Latinos in the US Heartland" – Remezcla
"the band synthesizes what's happening in ... Latin music better than anyone else out there today." — MTV
"... tough to classify into one genre, which ... makes them that much more appealing." — CNN en Español
"Dizzying yet cohesive, like the soundtrack for some yet un-written film." – American Songwriter Magazine