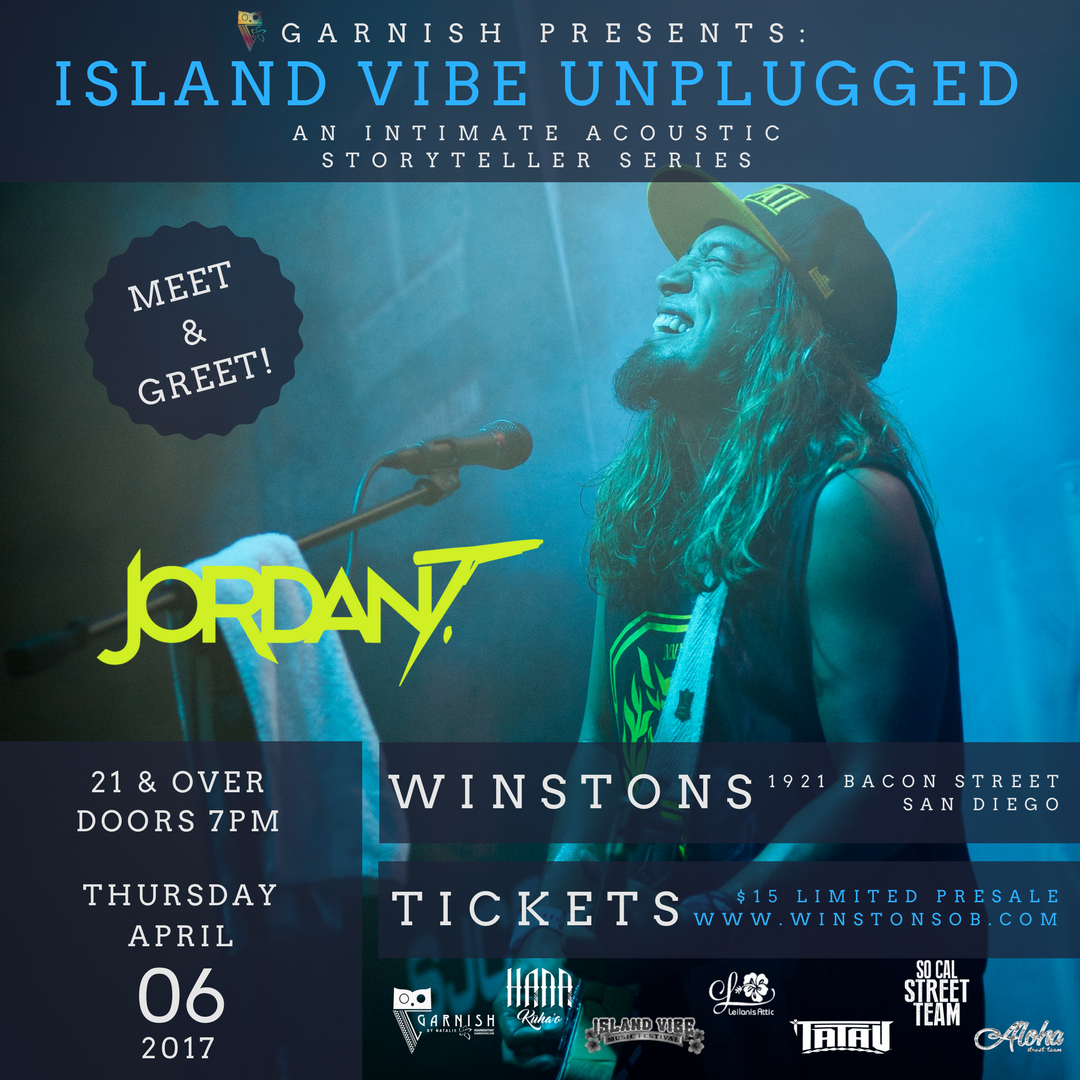 Garnish That Presents: Island Vibe Unplugged, an intimate acoustic storyteller series.  
Coming hot off of a world tour as a special guest lead guitarist/vocalist, Jordan T finished off about 5 months of Global touring with the New Zealand band, Katchafire. Headlining his own #BridgesTour2015 of the west coast later in 2015, he's had the chance to spread the message of Aloha and Island Reggae Fusion vibes nation wide both as a solo artist and a backing support.
As a solo artist of Hapa (halfbreed) Austronesian/Dutch ancestry with island roots in Maui, it was a busy past 3 years playing lead guitars around America for the local band Maoli. He got his start playing solo looping sets at local bars and party's around the islands. With the drop of his Original #1 Hit Single, "Sunset Tonight" in 2013, Jordan T worked his way onto the local and international radio stations, pushing him to bigger stages. He recently had opportunities to play International Music Festivals such as Rototom Sunsplash (Spain), Chiemsee Summer (Germany), SummerJam (Cologne, Germany), and American reggae festivals like Reggae on the River, California Roots Festival, Trenchfest (Guam). Jordan T had a chance to share the same stages or tour with bands/artists such as Katchafire, Jimmy Cliff, Major Lazor, Anuhea, Soja, Damien Marley, Maoli, Hirie, Common Kings, Fiji, Collie Buddz, Irie Love, Ali Cambell (UB40), Kimie, Ekolu, Rebel Souljahz, The Green, J Boog, Bobby Mcferrin, Mick Fleetwood, Michael Shrieve, and many more.
With the Successful Kickstart Campaign (presented by the Originatives) from the fans, raising about $30,000 (exceeding his goal of $23,000), he's now busy in Maui finishing up his long awaited full length album called "Bridges". It's set to release 2016. Following the album release, Jordan T plans on doing both another world tour of his own #BridgesAlbum2016 release tour fill up 2016.
His live performance will give you a vibe you'll never forget as he's known to leave 110% of himself out on stage and with his fans. With a true passion for his art, insistent to use music to infect the world with positive vibes of Love, Aloha, and Realness, He works to bridge cultural and linguistic gaps- Aiming to connect on an international level for a higher purpose.