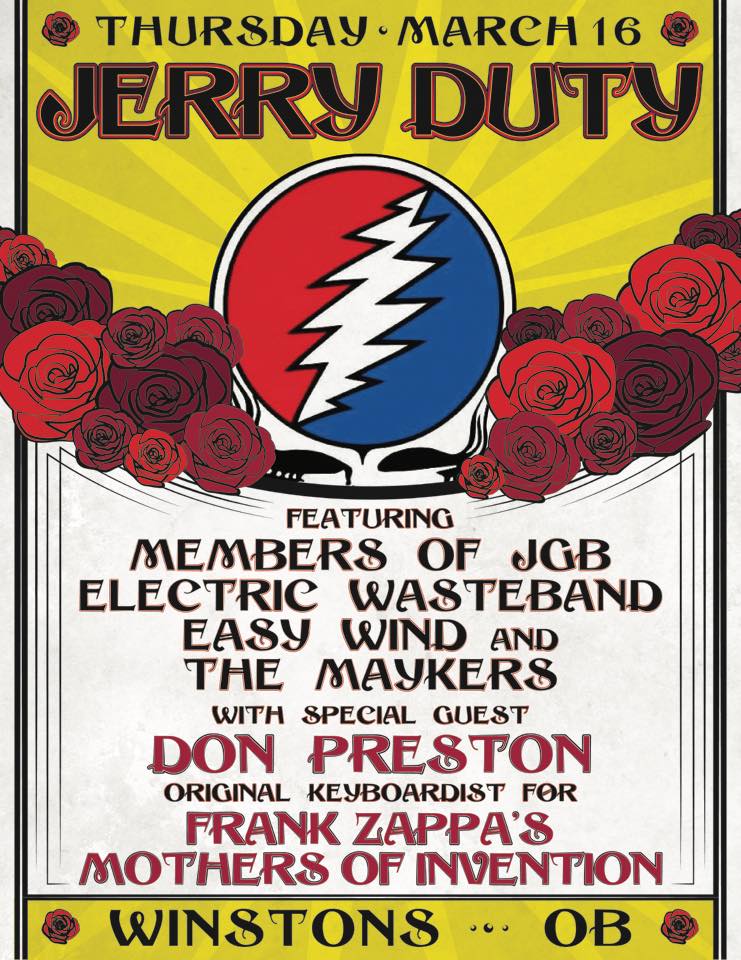 A rare and, dare we say, once in a lifetime event. Hear the music of the Jerry Garcia band, the Grateful Dead with special guest, Don Preston, the original keyboardist for the legendary Mothers of Invention. Don toured, recorded with Frank Zappa and the MOI from 1966 till 1974. He's also the star of FZ's first movie, Uncle Meat, as well as 200 Motels. Before Don met Frank he played with such well known artists as Nat King Cole, Max Roach, Elvin Jones, Paul & Carla Bley, others ...
Jerry Garcia and Frank Zappa had little in common except possibly their unconventional approach to music, the music business, their love of Rhythm & Blues music, as well as the all mighty burnt weenie sandwich, aka the hot dog. While musicially as different as oil and water, they share many of the same fans. Anyone remember when they were drafted as presidential running mates in 1988? Certainly, they were the best choices for that year, though it never got further than a bumper sticker.
Jerry Duty features Bob Harvey and Dave Chesavage of the Electric Waste Band, DJ Bonin of the Maykers, Modern Day Moonshine and Martin Holland, JGB, Easy Wind & Maykers — at WinstonsOB.