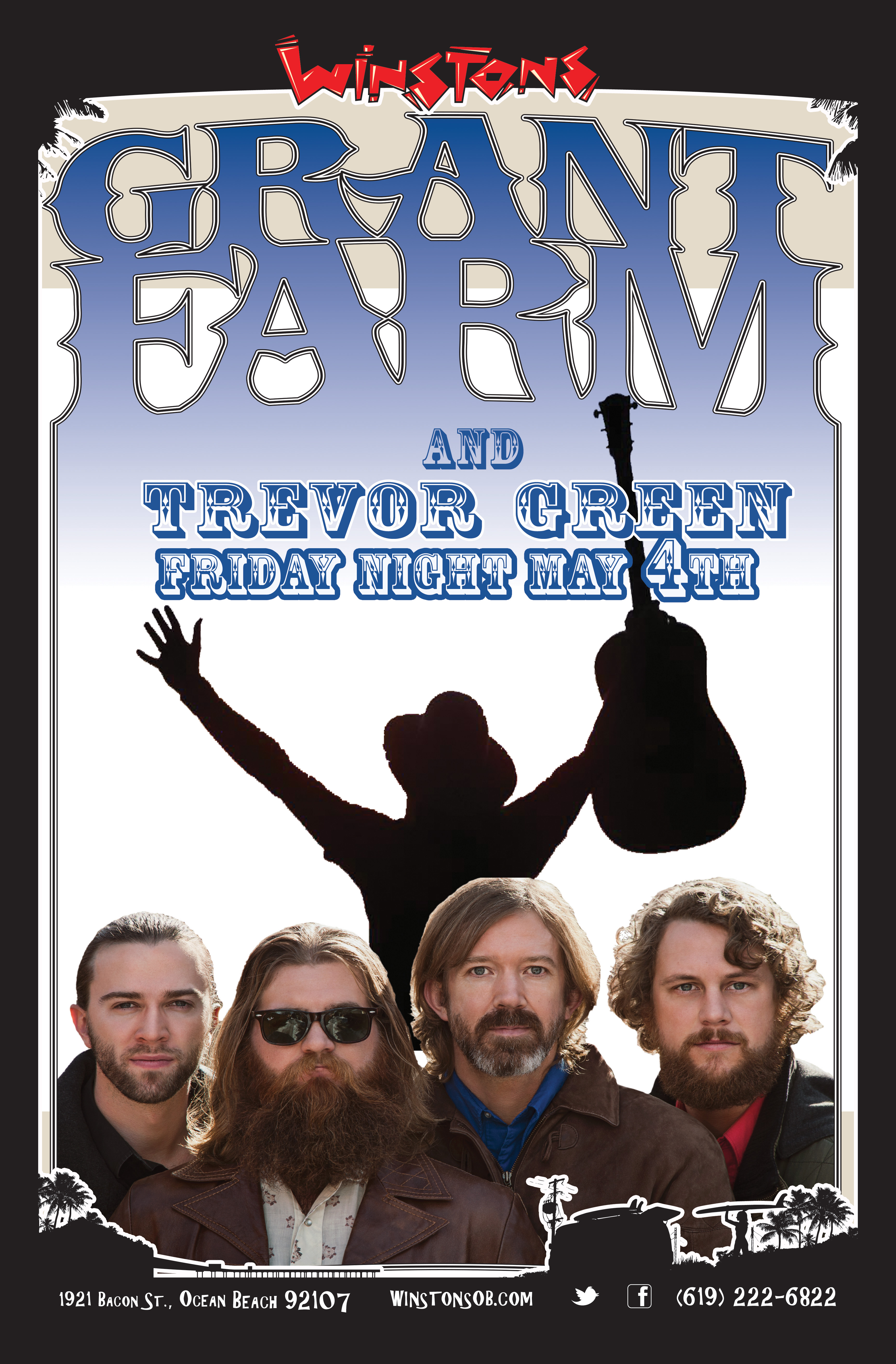 Cover:
$10 Advance / $12 Day of Show
Boulder, Colorado-based Cosmic Americana band Grant Farm has entertained a growing fan base on the nation's club and festival scene since its founding in 2009 by vocalist, National Flatpicking Guitar Champion and San Diego music legend Tyler Grant (Electric Waste Band/The Devastators). Built on the fundamentals of love, family, and virtuosic musical excellence, the band is a sure bet for fans of high-energy, authentic artists as diverse as Sturgill Simpson, Tedeschi Trucks Band and Phish. Comprised of zany, creative and highly musical comrades, Grant Farm members include Grant (aka "The Champ"), Adrian "Ace" Engfer (bass and vocals), Sean "Magic" Macaulay (drums) and Kevin "Money" McHugh (keyboards and vocals).Grant Farm released their third full-length album, Kiss the Ground, in June 2016, and in 2018 released their first LIVE album, Meeting on the Mountain LIVE Vol 1, featuring special guests such as Bill Nershi (String Cheese Incident), Todd Sheaffer (Railroad Earth), Andy Hall (Infamous Stringdusters), John Magnie (Subdudes). 
"They had three guys who sang impressive lead vocals. The songs were really good. Grant Farm headlining Red Rocks on a mountain summer night? It ought to happen and I'd buy a ticket." - Craig Havighurst - Review of Music City Roots Performance November 2016
"It's the entire quartet's skill set that has made them a pillar of the Colorado Music Scene. 'Kiss the Ground' is the Americana act's first full-length themed album, an 'ode to the working people.' It's an appropriate soundtrack to an era that bred Bernie Sanders and widespread societal discontent." - Kiran Herbert - Relix Magazine
Spirited, deep, and thought provoking are just a few words to describe the artist known as Trevor Green. His music is something fresh and distinctly new, yet is deeply woven in the spiritual fabric of our ancient ancestors. Surrounded by 5 guitars, 3 didgeridoos, an array of percussion instruments and decorated of symbolic ancestral nature, Green's stage appears to be a musical playground not for the faint of heart.
On the heels of Green's recent EP 'Collide,' comes the latest and most anticipated of his musical offerings. 'Voice of the Wind,' Green's 5th studio album, is a captivating sonic journey exposing the foundational fabric from which his inspiration is born. Traveling the depths of emotion and musical experience, 'Voice of the Wind' brings the listener into the haunting mystical realms of songs like "Rainbow Medicine," to the foot stomping grooves of "Let it Go" and into the celebratory experience of the songs like "Red Road" and the title track "Voice of the Wind." This record is a culmination of Trevor's music and spiritual experiences to date and expresses the willingness to invite each listener into his personal journey as a reflection of their own. 
"I follow the music where it leads me. Through this process I find the music always comes from an honest place and that is most important in receiving the songs when they come through." What deepens the music is Trevor's ability to connect with his audience. Threading together sing-able and uplifting melodies, dynamic instrumentation, heart pounding rhythms and the haunting sounds of the didgeridoo, with his spontaneous improvisational ability, Green's performance is a one man powerhouse with universal appeal that seems to come from the ground up. With his honest delivery and ability to extricate the music from a deep place of truth, he leads his audience through vast landscapes of sound, weaving together a magnetic and spellbinding performance.
Through Green's devotion to bring forward the messages of our ancestors and connect deeply with culture, he recently launched a successful crowdfunding campaign that sent him, his wife, two young children and the son of his adopted Navajo brother on a two month journey into the heart of Australia to discover the roots of the aboriginal culture and the story behind the didgeridoo (yidaki), which has been such a fundamental part of the sound scape of his music.
Performing 25 shows across the region and meeting with various wisdom keepers from the indigenous aboriginal cultures, this would prove to be yet another life altering journey of deep magnitude. In seeking a deeper understanding and connection to didgeridoo, he was lead to a far deeper connection with the aboriginal community of Northeast Arnhem Land where he and his family were adopted into the Galpu clan.  Given the name "North Wind" by elder Djalu Gurruwiwi, Trevor brings the blessing back to North America where he offers his fifth studio album 'Voice of the Wind.'