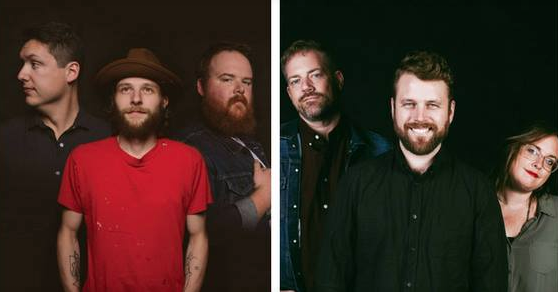 Cover:
$8 Adv // $10 Day of Show
"Mumford & Sons meet the Avett Brothers with a twist of bluegrass. Old Crow Medicine Show with three-part harmonies. The Band for millennials… The Maine-grown, foot-stompin' holler-folk quartet create the type of music for which festivals are made." - The Boston Globe
Born on the banks of the Saco River, brothers in all but name, the Ghost of Paul Revere is Maine's holler-folk band. A powerful, energetic, non-traditional American folk band that's renowned for harmony fueled, heart-pounding performances full of songs with unique identities that remain undeniably the Ghost of Paul Revere. 
    Formed around childhood friends Max Davis, Sean McCarthy, and Griffin Sherry, the Ghost of Paul Revere played their first show together in 2011 at a tiny bar in Portland, Maine. Now, they play across the nation, bringing holler-folk into houses, bars, and music halls. They have shared the stage with the Avett Brothers, The Revivalists, The Travelin' McCourys, Brown Bird, Spirit Family Reunion, Darlingside, as well as members of Greensky Bluegrass, the Infamous Stringdusters, and Old Crow Medicine Show.
Their critically acclaimed, Billboard charting full length album Believe, as well as their two EPs North and Field Notes Vol. 1, have continually been the top selling local albums in Maine and New Hampshire for more than four years. The Ghost of Paul Revere has since sold out Port City Music Hall, Stone Mountain Arts Center, and the Strand Theater multiple times, won Best In Maine at the 2014 New England Music Awards, were an official showcase artist at Folk Alliance International 2015 and made their Newport Folk Festival debut in August 2015. They capped off 2015 with an electrifying headline performance on New Year's eve at Portland's State Theatre in front of 1,600 enraptured fans.
In 2016, amidst touring nationally, they returned to the studio to craft their second full length album, engineered by Jonathan Wyman at Halo Studios and mastered by Adam Ayan of Gateway Mastering.  The album is expected to be released in the fall of 2017.
Jon Stickley Trio has been making waves with the independent and fan-funded release of their 2nd album, Lost at Last, this past October. The originality and sheer energy of this genre-bending ensemble serves as a welcome wake up call for those who experience it. With roots in gypsy jazz, bluegrass, and hip-hop in an "exhilarating all-acoustic swirl" (Acoustic Guitar Magazine), Jon Stickley Trio combines Jon Stickley's rapid-fire flatpicking guitar with the sultry and wild, yet refined, melodies of Lyndsay Pruett on violin set over the deep groove of Patrick Armitage on drums. The three have fused their collective styles into a repertoire of exciting and innovative original music along with some captivating covers. Lost at Last was recorded in the band's hometown of Asheville, NC at the iconic Echo Mountain Studios under the watchful eye of producer Dave King (The Bad Plus).