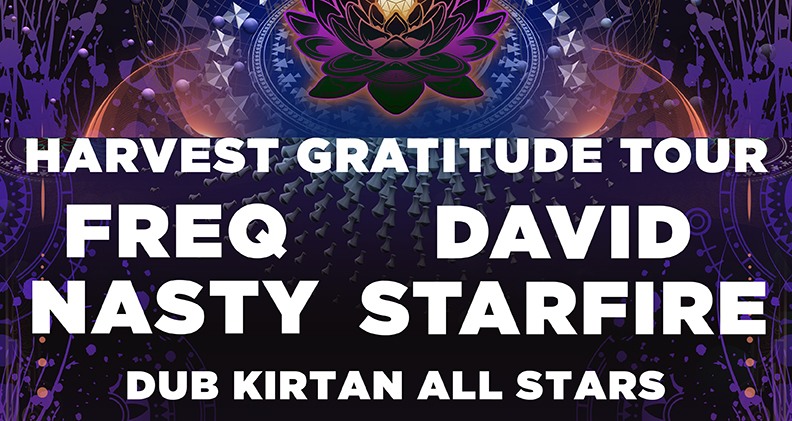 FreQ Nasty, David Starfire, and Dub Kirtan All stars are bringing Global Bass, Left Field, and Kirtan chant infused Bass Music to the masses!
FREQ NASTY
FreQ Nasty (UK) is a pioneer of the Breakbeat and Bass music genres and is one of Burning Man's most loved DJ's. From his early Breakbeat classic 'Boomin Back Atcha' to collaborating with Santogold on the Indie superstar's breakout record 'Creator', to collaborating with Bassnectar for one of his first ever Dubstep releases ('Viva Tibet'), or producing the raucous 'Hard Night Out' for UK rap star Professor Green, FreQ has been instrumental in pushing the boundaries of Electronic Music since the late 90's. Festivals played include Coachella, Lightning in a Bottle, & Shambhala. His highly anticipated EP drops this fall! 
https://soundcloud.com/freqnasty
DAVID STARFIRE
Named by BBC Radio One as "One of the most brilliant world-fusion producers of our time", David Starfire is an innovator of the Global Bass genre. He reached #7 on the iTunes World Music chart, two #1 remixes on Hype Machine, performed as direct support for Skrillex and Bassnectar. He's collaborated with Dancehall legend Sizzla, Ooah (Glitch Mob), and Alex Grey amongst others. Festival highlights include Coachella, Shambhala, Lightning in a Bottle, and Burning Man. His new Primal EP was released in September and once again pushes the boundaries of Global Bass Music. 
https://soundcloud.com/davidstarfire
THE DUB KIRTAN ALL STARS
A collaboration between David Starfire and FreQ Nasty, 'Dub Kirtan All Stars' fuses bass-heavy dance music with South Asian Kirtan music, the call and response chants of the Indian yoga traditions. Their music is a favorite with the ecstatic dance community and features Grammy award-winning singer Chaitanya, Donna DeLory, and MC Yogi. Their new EP drops this fall featuring the kirtan legend Jai Uttal.