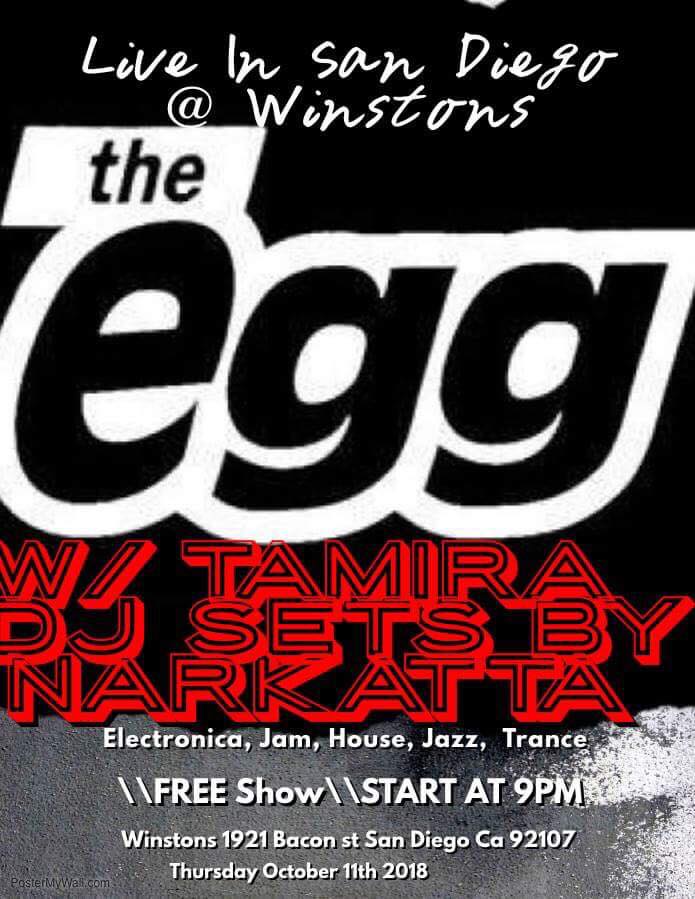 Join us for an evening of Psychedelic jams and cosmic flights. 
The Egg, Tamira, and Narkatta 
THE EGG are a band well known to festival audiences, having played many UK festivals including Glastonbury and The Big Chill as well as Rustlers Valley (South Africa) and also in Holland, Switzerland (Montreux Jazz), France, Turkey and Ibiza and so many more. The band is electronic in nature, performing dance/post acid jazz, funk/ambient instrumentals with a psychedelic warmth holding different eclectic influences together.
http://www.theegg.org.uk/
Tamira (featuring members of MUN) is a group of versatile musicians based out of San Diego, Ca. Starting out as a middle eastern all improv outfit, Tamira has evolved their middle eastern electro sound into a psychedelic pallet of ethnic, electronica, jazz, rock, funk, and drum n bass. With their willingness to consistently develop their craft, Tamira brings a quality experience to listeners at every show.
https://www.facebook.com/elementalrootsband/
https://www.facebook.com/MUN.NYC/
Narkatta is a movement designed to help our scene flourish, promoted by an extraterrestrial DJing music producer with a current home base in LA who's on a mission to spread the word about the ancient Ibogaine plant. Expect extended sets of sexy organic bass lines and instruments from far away lands mixed with positively nostalgic RnB + Hip Hop lyrics into afro-style deep house. 
narkatta.com | Joe Katta.