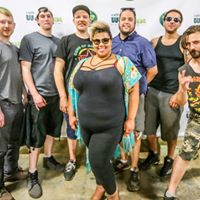 Cover:
$8.00 Advance $12 Day of Show
Dirty Revival is a Portland, OR based Soul band formed in early 2013. Since it's inception, DR has shared the stage with many national and local favorites including Gift of Gab, Lyrics Born, Nappy Roots, Satin Chaps, Cooper and the Jam, Farnell Newton, Speakerminds and Elton Cray.  
The band is made up of a diverse group of musicians whom all bring a unique vibe that, when combined creates a meaningful, soulful and passionate sound.  
2015 will see the release of Dirty Revivals Debut Full Length Album, an appearance at the Joshua Tree Music Festival in May and several multi-regional tours. This is sure to be an exciting year! Follow Dirty Revival on Facebook, Twitter and Instagram to find out what the band is up to.
Let's get Dirty!
with
Lantz Lazwell & the Vibe Tribe service the deep, melodic desires that drives us to dance while providing a complete auditory/visual experience to dazzle the senses.
Lantz has not only been a national touring artist for years, traveling and sharing the stage w such greats as George Clinton, Bernie Worrel, Eric McFadden, Norwood Fisher (Fishbone), Stephen Perkins (Janes Addiction), but also was the winner of a Los Angeles Music Award for "Best Rock Male vocalist " in 2007.
His new project "Lantz Lazwell and the Vibe Tribe", fuses elements of Live and electronic music, Fusion Belly dance (Jayna Manoushe- Belly Dance Superstars), and circus arts.
 This pairing of digital & performance art to their rock 'n soul , world beat inspired grooves, is an immersive, one of a kind experience that has continued to captivate audiences across the nation.
A festival staple… A powerhouse of talent and showmanship… Lantz Lazwell & the Vibe Tribe bring the rock 'n' soul anthem back into your heart & rock you right.