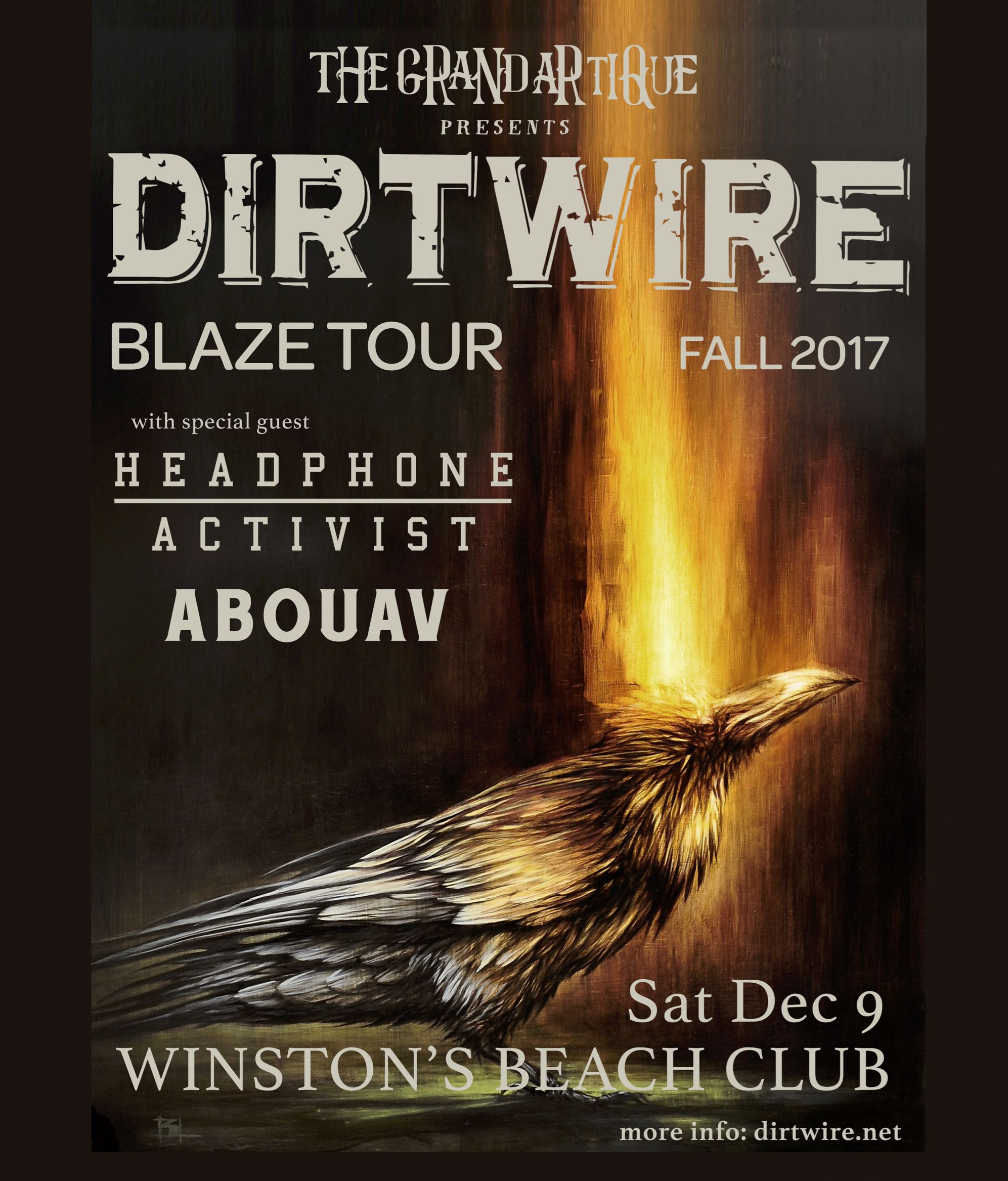 The Grand Artique invites you on a intimate musical journey at Winstons, one of San Diego's oldest music venues! Mark your calendars for December 9th as Dirtwire brings their "Blaze" tour to San Diego! 
Dirtwire 
www.soundcloud.com/dirtwire 
Dirtwire sits on the back porch of Americana's future, conjuring up a whirlwind of sound using traditional instrumentation, world percussion, soundscapes, and electronic beats. Comprised of David Satori (Beats Antique), Evan Fraser (The Dogon Lights; Bolo), and Mark Reveley (Jed and Lucia), each performance brings us all to a mysterious crossroads of beats, blues, African, Asian, and South American sounds. The result is a rebirth of Americana and a post-millennial psychedelic journey to downhome goodness.
www.dirtwire.net 
Headphone Activist
www.soundcloud.com/headphoneactivist
Watching someone's dreams become their reality is one of the greatest journeys we can go on with an artist. For Pete Domville, the creator behind Headphone Activist, his project shows us that you can create a new sound in your own home, build it on your laptop, and have that sound connect with friends, fans, and people from all over the world. At 26, HPA has been able to solidify his project with a strong in-house work ethic mixed with an eclectic discography and a team behind him as strong as any other independent artist in this industry. He has been featured on BBC Radio 1, found placement with Mr. Suicide Sheep, Trap Nation, and Run The Trap, and has recently been working with his long time favorite magazine TransWorld Skate and Surf via their online platform. His most notable work for 2016 is his new remix of Flumes – Tiny Cities. Feat. Beck. His remix charted both @ #1 on Hype Machine and SoundCloud and is currently a fan favorite for the summer. Headphone Activist's project shows us that just when we think we have heard it all, a new artist comes along and shows us a fresh way to enjoy some of our favorite styles of sounds. From his classical remix project, to his work with making meditative trap music coined "cloud rap". HPA's shows constantly push beat culture forward for a new generation of artists and fans who support creativity and positive vibes.
21+