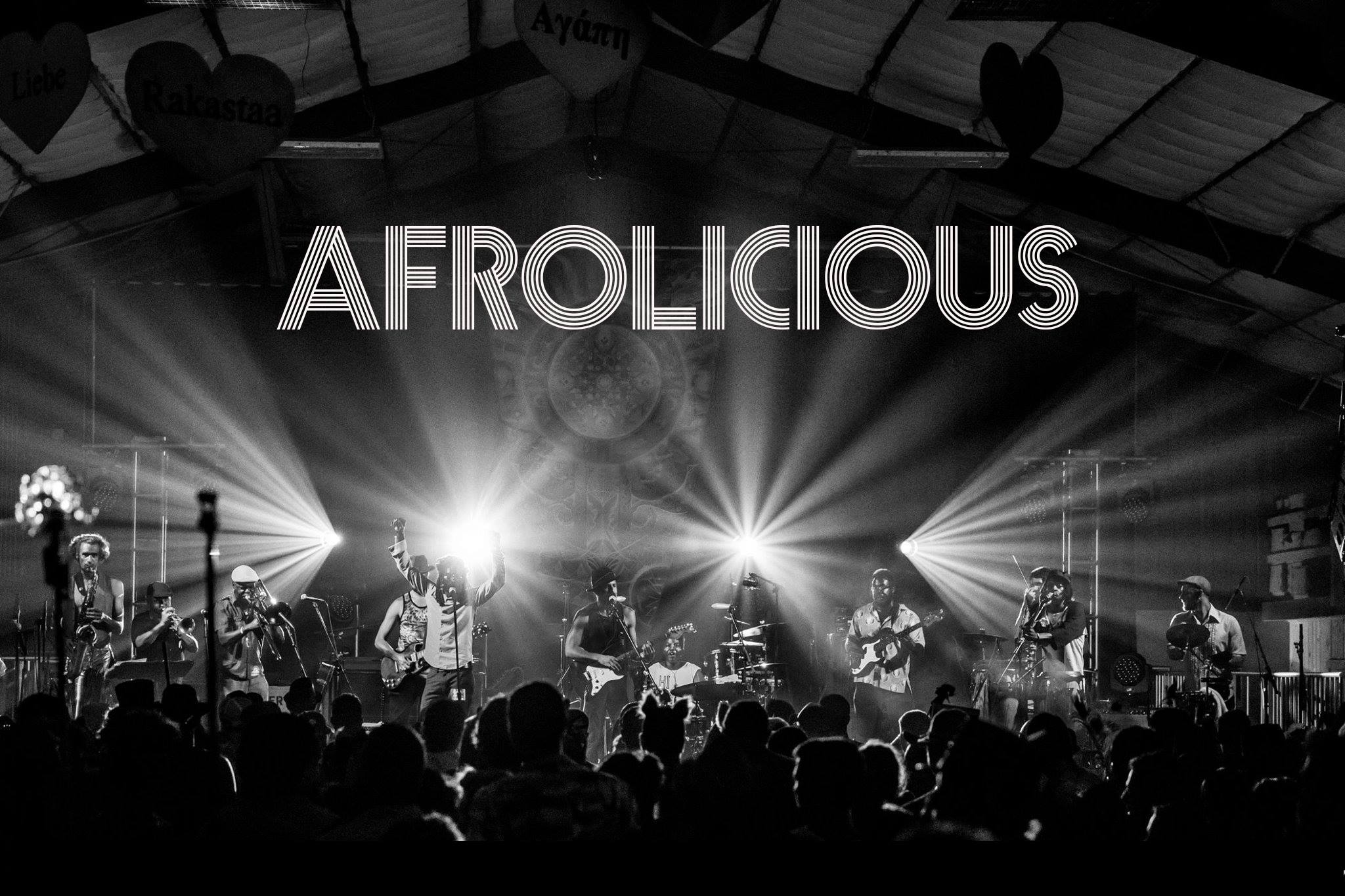 Having just hosted its final party at San Francisco's Elbo Room in June after a seven-year weekly residency, the wild dance band and soundsytem Afrolicious has broken out with a new album, "California Dreaming Remixed." In the midst of its 2014 summer tour that has taken it from the High Sierra Music Festival to clubs and festivals across California and Colorado, New York and DC and back the band has stayed steady and wowed audiences along the way.
Afrolicious has established itself as one of the top live/electronic bands on the scene. Launched as a weekly dance party featuring DJs and brothers Pleasuremaker and Señor Oz alongside percussionists, MCs, and horn players, over the years the band has evolved as founding DJ/producer Pleasuremaker (Joe McGuire) alongside his brother Señor Oz (Oz McGuire) hooked up with some of the most exciting personalities in the Bay Area music scene and started writing original music under the alias Afrolicious. By 2010 the live band version of the music had also adopted that moniker. The 8-to-12 member ensemble mixes its live sound with club-heavy beats and textures. The new CD features some of its best-known original songs remixed by Jamaican dub producer Scientist and Rob Garza of Thievery Corporation, among others. 
TV Broken 3rd Eye Open is an eclectic and versatile seven-piece band that fuses together a multitude of musical styles from across the world into a psychedelic explosion of sound. Equipped with didgeridoos, sitars, guitars, world percussion, keys, synthesizers,  drums, bass, flutes, harmonicas, banjos, and the kitchen sink; it is a musical ensemble like no other. The band draws inspiration from a myriad of musical genres such as afro funk, jazz, psychedelic groove, Indian, folk, blues, and even spaghetti western circus cabaret. Though the band's sound is unique in its own right, the TV Broken 3rd Eye Open experience also has a significant visual component. The TV Towers 2.0 (debuting in April 2019) is a way to express the way the band sees their music through visual art. Stunning visuals of sacred geometry and psychedelic imagery are then projected on to the stage to combine with the music to make for a truly unique experience.
Grooving and playing with so many different styles and sound textures has allowed the band to continuously grow from a style perspective. Just as their music has grown, so too has their festival presence. Having played at festivals such as Electric Forrest, Symbiosis, Lightning in a Bottle and Lucidity; TV Broken 3rd Eye Open's exposure is on the rise. The band's recent collaboration with visual prodigy  Pickles Visuals and Stranger Liquids has certainly solidified TV Broken 3rd Eye Open's status as a must-see band on any festival line-up.
In addition, members of the band can facilitate workshops, lectures, and classes of different kinds to enrich any festival experience. For example, one of the members is a certified and licensed sound therapist who can provide personal/group healings, workshops, meditations and interactive experiences involving sound healing. TV Broken 3rd Eye Open's current line-up consists of Adrian Johnson (global instrument specialist), Nathan Harvey (drums), Jasym Ellis (guitar, synth), Travis Soto (Bass), Alex Mello (Keys), Roberto Rodriguez (Percussion), and Pickle/Stranger Liquids (visuals).